Top
> Business > SP·PR Branding support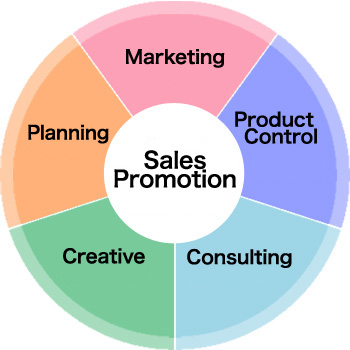 Individual becomes the media, with the advent of social media era with the information transmission power, is in the (consumer) side customers already option of information, simple gimmick like so far is becoming not Spoken. Marketing of target customers is becoming increasingly important in considering the business strategy.

In modern cross each other is old and new media(※), from now on, it is the era strategy cross-media (super media), cross-communication is essential. Then, what you need now, would it not be that instead of the discussion about the media area, and reconsider the origin of "creating a communication-stirring the hearts of people".

Place the emphasis on communication with target customers, from the optimization of contact information, with the aim of optimization of information transmission environment, we will strive to promotional branding support.
(※) Definition of old and new media
New media, tools and media of web-related that and other social media Four other trout television, magazines, newspapers, radio, old media, OOH advertising

≪具体的なサービス≫
Sales promotion planning, production and management
Planning, production and operation of the seminar · WEB media
Planning, production and operation of such business campaign events of any incidental to the preceding items
Planning and production of promotional tools
Planning, production and operation of the WEB-related promotion
Internet content planning, production and design
Planning and production of the SP media
Planning and progress of the various branding
The planning and production related to product development, to attract customers and sales
Planning, production, operation and flow measures of the EC site on product sales
Planning and operation of various types of promotion
Planning, production, operation, and event planning for women portal site La voce
Women's promotion event
≪取り扱い分野例≫
And various planning for customers and general for promotional campaigns, creating mechanisms
Promotion utilizing the Web(Induction and to campaign, planning and progress of the flow measures, etc.)
Selection and announcement medium for women, housewives, for family-friendly General, planning and production of the campaign, etc.
Planning and production of the campaign, such as the selection and announcement of the media business people in general
Planning and management to a combination of events such as the Web
Promotion utilizing social media
Overseas SEO / SEM and domestic
Multilingual WEB site production
Promotion utilizing including the sampling, a web tool or blog
Planning, production and management of promotion that utilize commercial facilities, shops and mass retailers, etc.
Sales planning, production and operation of the promotion in general promotion of various products
Planning, production and operation of web and utilization enlightenment campaign environment and eco-energy, etc.
Planning, web design and operation related to PR activity region activity, attract tourism, etc.